Looking to Innovate with Your Mapping Technology?

Mapping is an essential element of real estate websites and the technology behind it is advancing. The latest in mapping technology makes it easier than ever for you to integrate robust and cutting-edge mapping features into your real estate website and stand out from the competition.

Digital Map Products is a leading provider of web-enabled spatial solutions for the real estate market. Our products allow real estate companies to integrate advanced location technology into their applications without it being a consuming task. Our spatial solutions are delivered through SpatialStream™.


SpatialStream™ is a revolutionary cloud-based spatial development platform that makes it far easier to bring a robust and intuitive mapping application to market. By offering access to comprehensive spatial features, key geospatial data sets, and the latest innovations in mapping technology, SpatialStream™ provides a complete solution to meet organizations' growing needs for usable spatial technology. With SpatialStream™ you can:


Drive traffic to your public website with best-in class location data & mapping tools
Engage users with hyper-local data, market trends and animated maps
Personalize real estate search with property & lifestyle criteria that buyers care about
Integrate with your existing site and mapping solutions
Impelment efficiently; no maintenance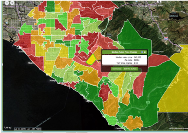 Learn More about SpatialStream™

Fill out the form below to have a Digital Map Products' team member contact you with more
information about SpatialStream™