Digital Map Products: Hyper-Local ROI
The Business Case for Search & Display at the Neighborhood Level
Our educational webinar discusses why the hyper-local phenomenon sweeping location based technologies is more than just hype, the value of presenting your content and services at the hyper-local neighborhood level, and how to make the business case for adding new hyper-local search and mapping display options to your site. We also discuss real use cases, implementation tips, and examples of neighborhood boundaries in action with cool map displays.
This webinar is ideal for product managers, executives, and developers in location based services.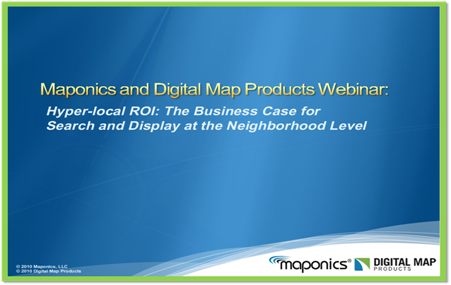 Watch this valuable webinar to learn why hyper-local data is a must for your site
Fill out the form below to access the webinar recording and learn how leveraging local context can improve your user experience and increase your site's ROI. (Required fields are marked with an asterisk *)